Waterproof and mildew proof tape for kitchen and bathroom, Corner, wall seam, sink, closestool all can use. No trace, easy to clean, according to the needs of their own cutting length. Can stick in the bottom of the kitchen, sink, closestool, corner crack, etc, Had "it" existence, the household environment looks brand-new, need not worry about crevice to blacken damp.

【Sealed and beautiful】
Provides a long lasting seal and gives a finished professional look to kitchen and bath areas. Keep your house clean and tidy as new one for a long time. Environmental-friendly and non-toxic, very nice and comfortable feeling, specially designed for family.

【FLEXIBLE】
Pre-shaped for Fast and Easy Installation: Simply peel and press self-adhesive strip to the surface in minutes. No tools, No mess, hassle and waste, easy alternative to regular caulk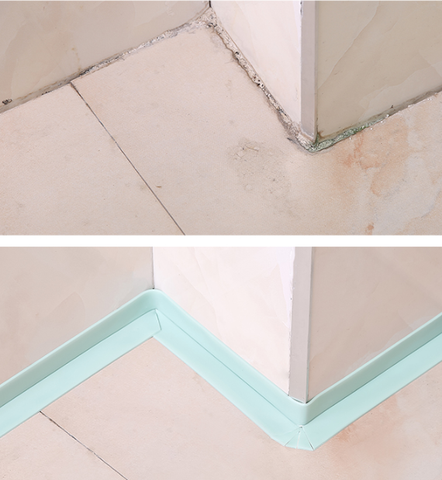 【Excellent Design】
With creases in the middle, linear design for free tortuous. You can fold the self-adhesive strip in 90° and use it in the corner. It's a perfect choice for your house. No tools needed, no mess, hassle and waste, easy to replace the regular caulk.
【Wide USE】
Widely used for sealing the seams of gas stove, sink, basin, bathtub and walls, it could prevent them from getting mouldy and black, keep your kitchen and bathroom clean and tidy.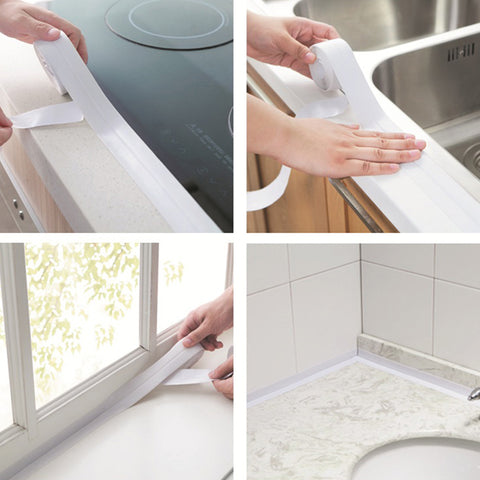 【Durable Material】
Made of high-quality PE material, features stronger stickiness and adhesion than traditional PVC. it is waterproof, dampproof, mould proof, oil-proof, sturdy and durable, gives a finished professional look

SPECIFICATIONS:
Size: 320cm x 3.5cm
Weight: 230g
Color: Beige/ White/ brown /gray/Fruit party/ green forest/ delicious tableware/ triangle letters
Main Material; PVC.
PACKAGE INCLUDE:
1 x Waterproof Repair Tape for Bathtub Bathroom Kitchen.
NOTES: